User Acceptance Comparison by a Fortune 100 Client: Solvoyo vs. A Globally Recognized Vendor
On acceptance and autonomous execution of daily plans, Solvoyo leaves a globally recognized market leader in the dust! If you want 80-90% of your plans to be immediately executable, no Excel adjustments, no post-processing of plans by experts, then let us show you how.
| | | |
| --- | --- | --- |
| | Solvoyo | Global Vendor |
| No-touch Planning Accuracy | √ | ? |
| User-friendly UI/UX | √ | ? |
| Predictive Analytics | √ | X |
| Scenario Comparison | √ | X |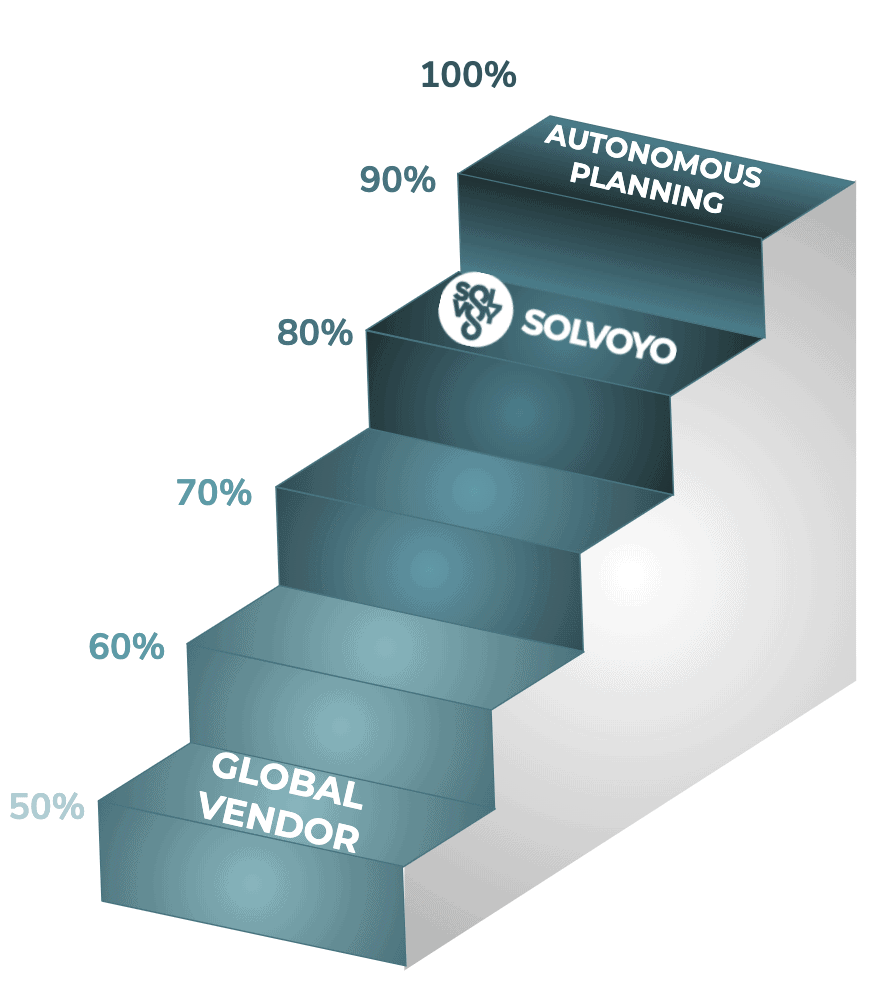 Solvoyo Analytics & Visibility Dashboards for CPG Companies
Visibility to KPIs & Exceptions
KPI tracking and internal reporting metrics based on advanced analytics such as stock covers, lost sales, and fulfilment rates and provides the baseline analytics foundation.
Understanding Reasons for KPI levels & Exceptions
Automated diagnostics brings speed and efficiency to daily operations by identifying the root-cause of stock-outs or declining service levels. Are these due to demand variability, forecast bias, lead time variance or supplier performance? Solvoyo connects the dots so that planners can focus on addressing the problems.
Using Demand-Drivers for Forecasting Demand
Using forecasting techniques and machine learning technology leveraging event libraries and external data to predict likelihood of stock outs, potential lost sales, over-stock situations or missing sales targets enables planning teams to take proactive measures.  With Solvoyo's what-if capabilities planners can also evaluate different scenarios to make informed decisions.
PO Recommendations Driven By Demand Forecasts and Inventory Projections
Aligning supply chain plans to business objectives is now possible by prescriptive capabilities giving the planners specific actions to make it happen. Automated recommendations driven by machine learning to optimize optimal quantity and timing of supplier purchase orders and/or production work orders enable supply chain organizations to become more agile and action-oriented.
Solvoyo Analytics & Visibility Dashboards for Retailers
KPI Tracking
Solvoyo platform gives you visibility to supply chain KPIs such as availability, lost sales, waste and supplier performance and helps you identify issues in a visual format.
Understanding Forecast Issues
Solvoyo platform provides visibility to product or locations where there is high forecast error
Visibility to Future Demand and Inventory
Planned promotions, price changes and special days are taken into account to provide more accurate view of the demand, and inventory projections.
Store Replenishment
Store-Level Forecasts, and Inventory Projections & Order Parameters drive recommendations for store-replenishment
What can you achieve with Solvoyo Supply Chain Analytics & Visibility Platform?