Intelligent Markdown Optimization with Solvoyo Platform
Markdown optimization is the application of optimizing the reduction in the selling price by recommending the best timing and depth of markdowns. It takes each product's shelf-life, stock levels, current pricing, lifecycle, and seasonality trends into account for the purpose of decreasing the excess inventory.
The very first goal of markdown optimization in retail is to clear excess and unused inventory. Retailers apply markdown optimization methods to have an optimal inventory in line with consumer demand. Fluctuating product life-cycles, seasonal demand, various assortments, varieties of the customer base, new stores, price competition, and any other factors that may change after the initial decision-making point are made the need of markdown optimization much more crucial.
Solvoyo's Markdown Optimization solution offers automated diagnostics, predictive analytics, and prescriptive actions to support decision making using ML/AI technology to achieve different business goals. Through automated diagnostics users can quickly focus on items requiring price actions. Through predictive models, users can understand the impact of different discount offers on financial and inventory KPIs and make faster and smarter decisions.  Through our flexible integration technology with ERP systems, users can automatically execute price changes without the need for any further manual processing. Solvoyo platform also tracks the price actions and measures the markdown performance.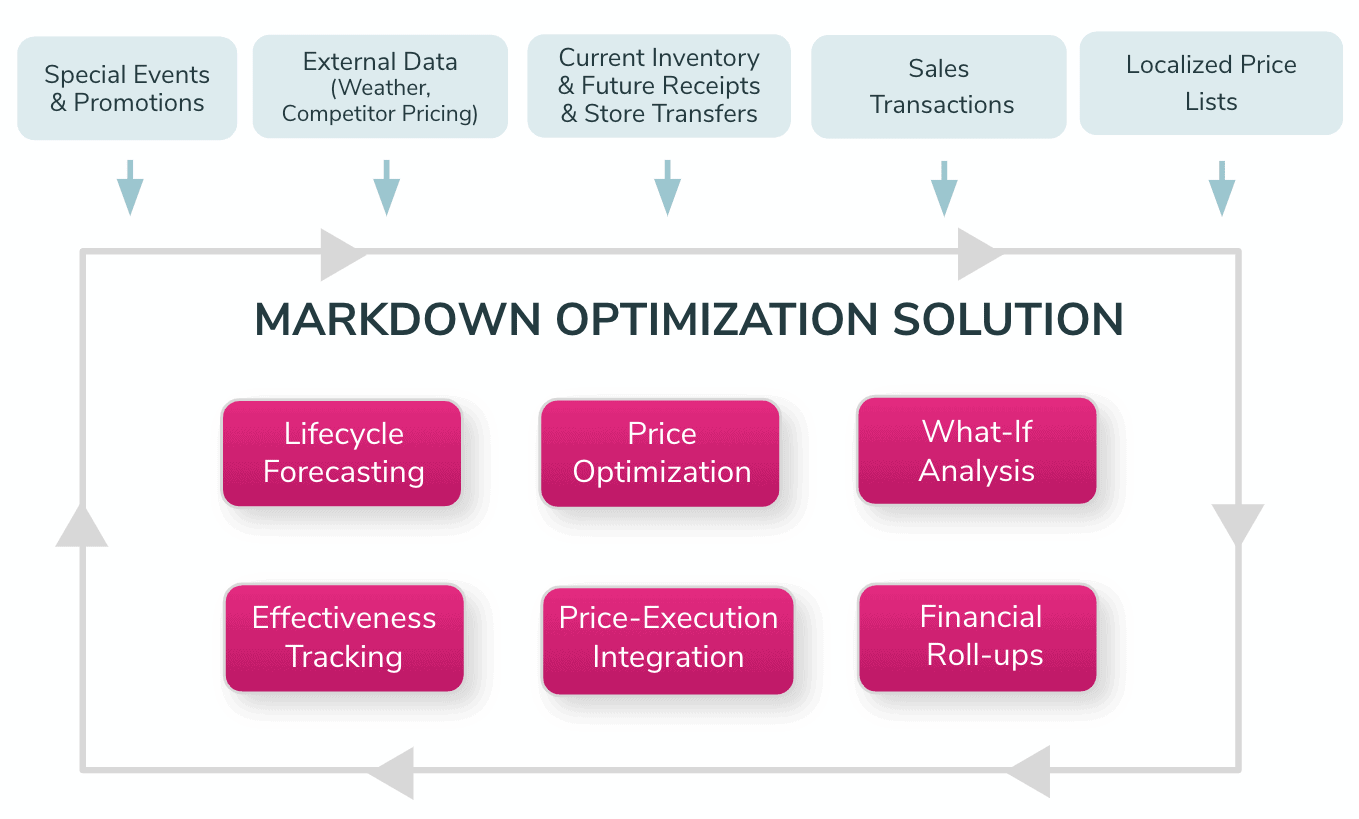 What can you achieve with Solvoyo Markdown Optimization Solution?
Solvoyo Retail Planning Platform
CONCURRENT OPTIMIZATION
All the solutions you need. Under one platform.
Our platform concurrently plans and optimizes orders, inventory, and transportation in a holistic approach that is far more effective than attempting to optimize each discretely. Solvoyo provides its solutions in one model across strategic, tactical, and operational time horizons.