User Acceptance Comparison by a Fortune 100 Client: Solvoyo vs. A Globally Recognized Vendor
On acceptance and autonomous execution of daily transportation plans, Solvoyo leaves a globally recognized market leader in the dust! If you want 80-90% of your plans to be immediately executable, no Excel adjustments, no post-processing of plans by experts, then let us show you how.
| | | |
| --- | --- | --- |
| | Solvoyo | Global Vendor |
| No-touch Planning Accuracy | √ | ? |
| User-friendly UI/UX | √ | ? |
| Predictive Analytics | √ | X |
| Scenario Comparison | √ | X |
| Concurrency with Fulfillment | √ | X |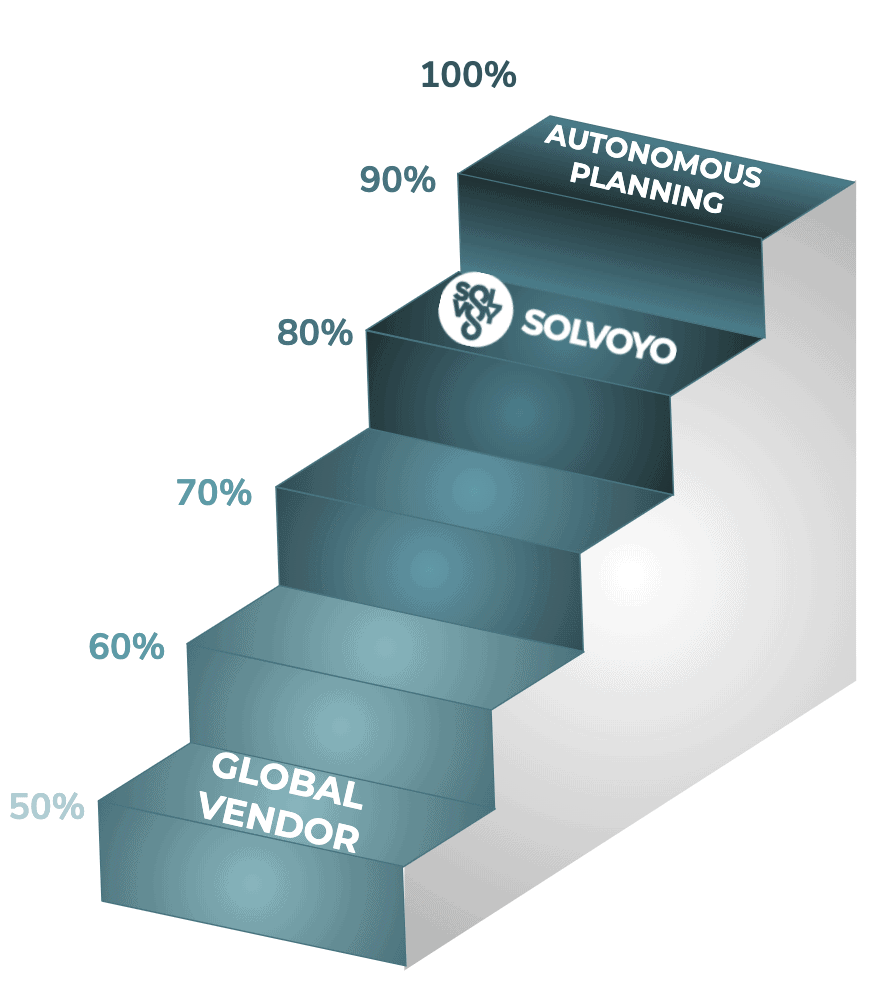 Solvoyo Transportation Planning UI
Master & Operational Data Management
In addition to exchanging data with your ERP and TMS systems, Solvoyo platform allows you to manage the master data, the planning parameters and the business rules in one central place, ensuring consistency across not only within transportation plans but across all related supply chain functions
Plan Views and Manual Overrides
The acceptance rate of Solvoyo's transportation plans are already extremely high. If you ever need to touch the plan, then you can do it easily and efficiently using our world-leading UX as well as the alerts that provide you the laser-sharp focus on what to change and what the consequences might be to the overall plan.
KPI Tracking & Review
You know you have an effective transportation planning functions when you can track your cost and service KPIs over time and correct them for seasonality of shipments, changes in tariff structures, changes in customer base (ship-to locations), etc. Solvoyo platform comes with several built-in performance tracking and review functions that are refined over years of usage across many industries. If you want your own KPIs instead or in addition, then the platform provides a rich set of configurable UI components that enable us to add them in a matter of days. 
Multiple Objectives
Solvoyo Platform allows you to model and select -on demand or based on business rules- multiple and sometimes conflicting objectives to plan your transportation, including the following sample from our clients:
Minimize Total Transportation Cost, Minimize Inbound Delay when concurrently planned with MRP etc.
Maximize Overall Service measure such as due-date compliance, Maximize OTIF when concurrently planned with Fulfillment, Maximize Margin when concurrently planned with Fulfillment
The ability to plan with multiple objectives and to change their order dynamically increases plan acceptance rates and creates significantly higher value.
Usage Statistics
Digital transformation is not ordering your favorite dish at a fancy restaurant. It is more like going to the gym: you have to sweat and work hard to get in shape. That is exactly why we closely monitor your usage of our platform. We provide updates on who used which functions for how long, along with a log of the users' edits for the sole purpose of exploring -together- new ways to improve the platform's effectiveness and efficiency. 
What can you achieve with Solvoyo Transportation Planning Platform?