Improved Business Outcomes
Using our Demand Planning platform, our customers experience immediate and measurable business value with us and have typically seen powerful results in 3-6 months.
Increase forecast accuracy

Empower all the stakeholders in the process

Estimate the effect of your demand drivers to separate the proverbial wheat from the chaff

Invest your marketing and promotion budget on actions that maximize profit

Leverage external data for both demand manipulation and marketing actions
On-Time Fulfillment & Availability Increase
4 Step End-to-End Analytics Journey
Solvoyo combines the best of supply chain planning and advanced analytics into one integrated platform. It is not a black box but rather a platform to provide views and insights on your end to end supply chain to drive timely and effective demand plans.
Step 2: Diagnostic
"Why Did It Happen?"
Drilling down to understand root-causes of stock-outs: The platform investigates the possible root causes of the stock issues. It provides a list of chronic understock/overstock products and gives visibility to parameters impacting stock-levels. The platform also analyzes demand drivers including price index, promotions, special days and visualizes the level of impact each driver has in demand. 

Step 3: Predictive
"What Will Happen?"
Using Demand-Drivers for Forecasting Future Demand: Demand-drivers are used for forecast generation. Planned promotions, price changes and special days are taken into account to provide a more accurate view of the demand, minimizing the need for manual forecast adjustment. Solvoyo platform also provides inventory projections and highlights potential stock-out or stock cover issues so you can take proactive actions.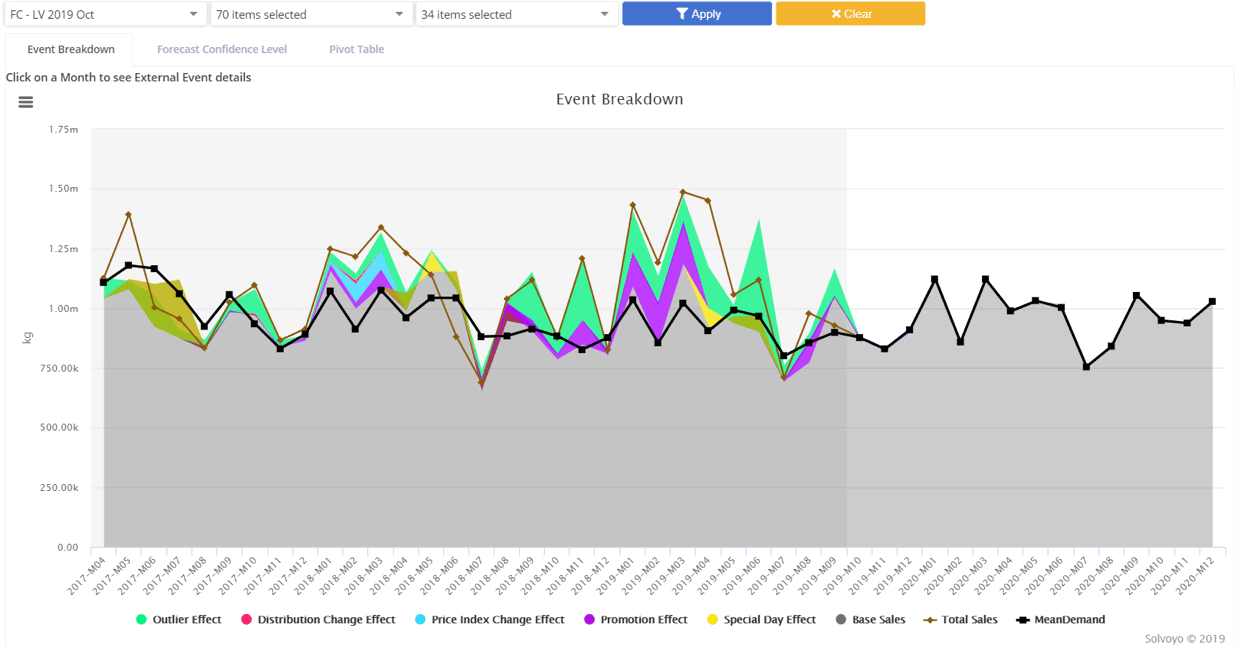 Step 4: Prescriptive
"How Can We Make It Happen?"
Gap closure actions to meet your Demand Plan: Track your sales budget compliance continuously, predict the gap between sales and budget and prescribe specific price reduction actions on specific products from your excess inventory pile.
CONCURRENT OPTIMIZATION
All the solutions you need.
Under one platform.
CASE STUDY
Fortune 100 Global CPG Company
End-to-End Autonomous Planning and Analytics
FLYER
Automated Decision-Making for CPG Companies
End-to-End Supply Chain Planning & Analytics