Solutions
Purchase Order Management
Whether it is managing daily procurement operations in an efficient way or replenishing DCs or stores to optimize the right inventory mix, Solvoyo Purchase Order Management allows organizations to automate Purchase Order creation process and handle Purchase Order exceptions.
Solvoyo recommendations' execution rates are extremely high due to embedded ability to codify all the intricacies and complexities of your supplier base - down to an individual SKU level - as well as automated update of SKU planning parameters using adaptive learning algorithms. By directly linking up the platform to your order management systems (SAP, Oracle, Microsoft Dynamics or other brands), Solvoyo can trigger PO creation from your web interface, closing the loop for complete automation. Purchasing raw materials for your production lines or ensuring precise DC replenishment for your retail network across regions is easy and automated. The Purchase Order life-cycle is visible online real-time, allowing to focus your efforts on managing exceptions. Solvoyo Purchase Order Management helps
Create and consolidate PO recommendations by modeling all supplier constraints including lead-times, minimum order quantities and incremental lot sizes
Consider invoice limits, credit checks, and other procurement rules
Specify business rules and thresholds for automated PO review, exception management, and automated decision filters
Predict future inventory profile and run-out days considering historical sales, inventory and fulfillment rates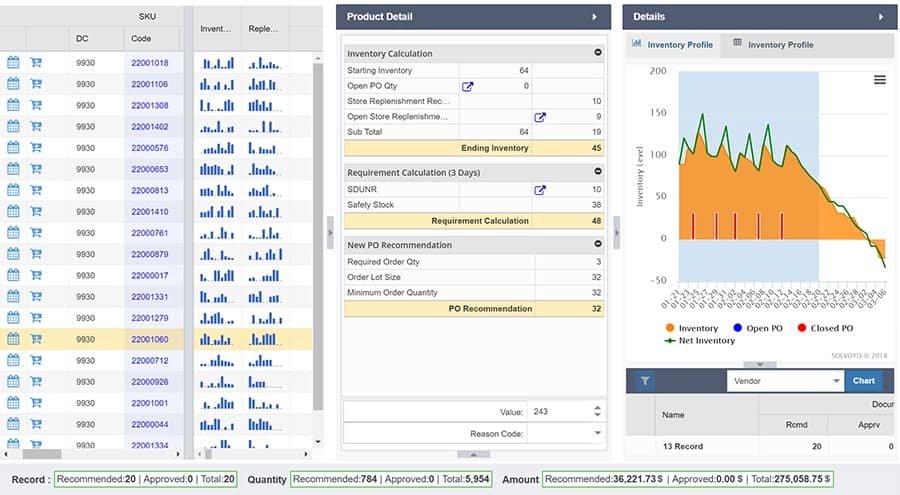 Purchase Order Management for Fashion Retail
In the world of fashion retail, PO management requires a special level of detail where POs are managed in style, option, size, and pre-packs. Solvoyo PO Management allows users to create, send and track POs and include different pre-pack configurations.
Aggregation of multiple POs to style level
Online sharing and tracking of POs with vendors
Automated feed to ERP systems
Ability to accommodate and drill down into different pre-pack configurations