It was mid-March when my flatmate and I burst into a panic as the first cases of COVID-19 were officially announced. Both of the companies we were working for abruptly told us to stay home and work remotely. In several days, the lockdown period started, and we were so anxious that we could neither buy any groceries from supermarkets nor order food from restaurants.
We then realized that we had to use something we rarely used before – online delivery services or the right terminology: last mile delivery.
What is last mile delivery?
Last mile delivery can be defined as the transportation and delivery of goods to end-users as fast as possible. The seller or the service provider makes sure that you are provided with the goods or service without leaving your home – right at your doorstep. From grocery and food delivery to courier services, there are many uses of last mile delivery. We can spot a surge in delivery services nowadays due to COVID-19.
Since the beginning of the pandemic, I have been a frequent user of these services. I no longer go to crowded malls to get new clothes nor wait in queues to get packaged goods and even fresh fruits. So let's discuss what makes last mile delivery essential during the global pandemic:
Convenience
The primary reason why people choose online services over a physical experience is that it is relatively simple and easy. In most cases, the provider has an app where you see what you can get when and for how much. You can even track where your goods are on the map. In my experience, all of the apps I have used got very sleek-looking UI's and are equipped with live customer support.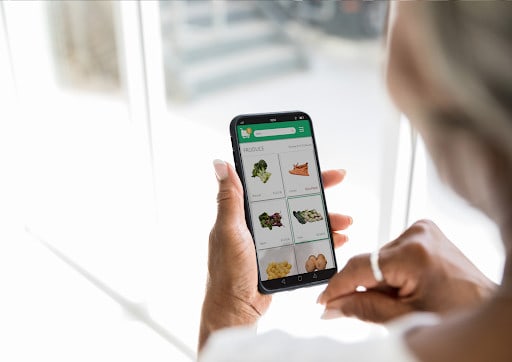 ‍
‍
Delivery & Pricing
While the brick & mortar retailers are transforming their operations online, some businesses are built from scratch as last mile delivery businesses. These do not have physical stores where customers can shop; instead have only fulfillment warehouse centers or local distribution centers where they keep inventory and fulfill customer orders. The services-oriented for last mile delivery offer lower minimum order amounts and faster delivery, yet, their delivery fees and prices of goods are usually higher than traditional players.
In contrast, traditional players going digital present higher minimum order amounts with more affordable prices. The drawback of big retailers is that they cannot get your order instantly. You are required to choose a time slot for delivery.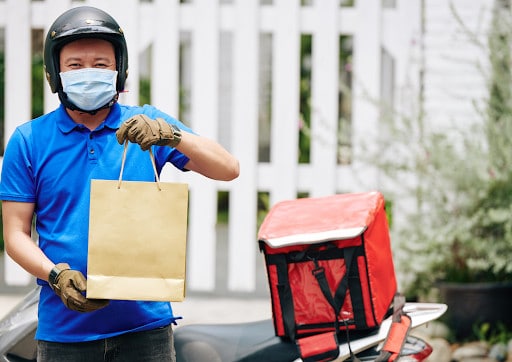 Responsiveness & Agility
Having used both, I can say that instant delivery services worked better in my case during the lockdown. Once, I ordered from the online store of a big retailer, and a number of the items were not delivered to me. Big retailers are not always fast in adapting to changes in business conditions. And not all of them are prepared well enough to adjust to the COVID-19 disruptions compared to new players in last mile delivery. Indeed, what one can deduce is that instant delivery companies were more agile and resistant during the COVID-19 pandemic.
However, new and emerging offers by e-commerce platforms connect local grocery stores and customers, providing the infrastructure and technology for last-mile-delivery, local stores could not have done by themselves. This is an excellent example of agility. An e-commerce giant recently commenced its grocery delivery operations, teaming up with local supermarket chains to implement store-based fulfillment. When a user launches the e-commerce app, the system automatically detects the closest stores to the customer's address, and the customer can order grocery items from the preferred store. The items are then delivered to the customer in 30 minutes or less. We see that a business model is becoming more widespread, benefiting both the customers and local stores.
Future of last mile delivery
The number of COVID-19 cases does not look promising, with the Northern Hemisphere entering the winter season. According to the survey conducted quarterly by Bain & Company among nearly 9,500 consumers in the US, UK, Germany, France, Italy, and Sweden, around 25% of the European participants claimed that they are still reluctant to go to physical stores despite the lifting of restrictions. The uneasiness in the United States is even higher, as close to 40% of American consumers stated that they do not want to visit physical stores. Thus, it looks like many individuals will continue to rely on last mile delivery in the shorter term.
The COVID-19 vaccine might turn things around, and life could go back to normal sooner. But one thing is for sure, COVID-19 has changed consumer habits dramatically and led the way for much needed digital transformation. Having realized the ease of using last-mile delivery services, consumers might not go back to their traditional buying habits.
This is exactly why all traditional retailers have to step up their supply chain game, especially during these times, but how can they achieve this? The answer is simple yet significant: digital transformation. Digital transformation cannot happen overnight; retailers or any business need to work collaboratively with a digital transformation partner. Retailers who had their partner at the beginning of the COVID-19 crisis actually thrived and increased their sales – all thanks to advanced analytics and digital platforms.
An end-to-end digital platform backed by advanced analytics and machine learning (ML) can help retailers accurately forecast the demand and get the right recommendations about stock levels. Besides, automatic diagnostics can help retailers take faster actions without using error-prone spreadsheets. Instead of using Excel to make calculations, cloud-based digital platforms can be used to detect significant changes in demand and supply. What is more, through these digital platforms, retailers can optimize their omnichannel inventory visibility, enabling them to find the right balance between the risk for waste and the risk for stockouts.
The time has come for retailers to go digital now – more than ever. Relying on rigid planning solutions and decision-making based on outdated methods will not take a business too far.