We all have an unforgettable childhood novel. Mine is "The Three Musketeers," written by Alexandre Dumas. The story revolves around the adventures of three heroic young musketeers who are in a fight for justice and honor. Their motto, "All for one and one for all," is more relevant than ever. They pursue a common goal instead of their individual ambitions. When it comes to business, companies aim to maximize their own objectives, such as sales and margin rates. However, when we look at companies that managed the recent disruptions effectively, we see that those who adopt a musketeer mentality with their business partners ended up doing better than the rest. According to a multi-industry McKinsey survey, Companies that regularly collaborated with suppliers showed higher growth, lower operating costs, and greater profitability than their industry peers. To weather the storms faced by the global supply chains, businesses need to collaborate across ecosystems. Your Promise Depends on Reliable Business Partners
As the famous phrase "All for one and one for all" states, your success is directly related to your stakeholders in today's interconnected world. Collaborate with your fellow musketeers, sharpen your sword, and beat the competition.
As a young industry, Q-commerce is a very good example of this. When consumers got locked down at home, the Q-commerce industry instantly took off, and billions of dollars started flowing in. Their promise to customers –groceries within minutes– was a rather ambitious one. Indeed, it is a very challenging promise to fulfill, but not impossible. To fulfill their promise, Q-Commerce companies had to be the best versions of themselves and should be equipped with the right tools.
Now the investments are starting to get cut since the delivery within 15 minutes was found to be a tough promise. This made Q-Commerce companies look for the right tools so they could fulfill their promise. The delivery costs are high; strategically located dark stores are needed to meet fulfillment requirements; manual human work is prone to error, and seamless supply chain operations are a must.
The dark stores should never be out-of-stock or have excess stock since capacity is also an issue. If deliveries from the suppliers are not on time, in full, and defect-free, operations will struggle. Eventually, empty shelves would reflect lost sales, increased costs, and loss of customers. Therefore working closely with your suppliers within an ecosystem and having great visibility over operations are the key to a thriving business.
Vendor Collaboration Brings Business Agility
Unity brings resilience: A collaborative supply chain lets businesses grow together with vendors, improving the efficiency and visibility of the supply chain. In most cases, companies collaborate with the largest supplier since they assume that the largest supplier would provide the greatest value. But in practice, a smaller partner may have been involved better in your orders and bring greater value with a better relationship. How would a business know which one to choose?
Vendor collaboration is a joint effort that creates a competitive advantage for suppliers and buyers. It reduces overall costs, errors, and inefficiencies for everyone involved. Vendor collaboration can be approached from an Operational and Strategic perspective. The operational level is about how POs are relayed to suppliers, and the tactical level is about tracking supplier performance and sharing it with them. There are different types of collaborations, and the most common ones include:
Enabling real-time visibility for the status of purchase orders
Planning specific promotions or marketing campaigns
Collaborating on medium-to-long term demand patterns
Visibility on Purchase Orders
Vendor Collaboration tracks lead times and vendor scores to provide greater visibility over operations. These abilities make the organization resilient in response to disruptions and changing customer demand. The system tracks OTIF (on time, in full) rates and evaluates vendor scorecards for suppliers, which helps you to determine how each supplier is performing. This gives you the advantage of seeing the big picture with its details. This way, it is possible to detect supplier-related problems and respond quickly.
Planning Promotions and Marketing Campaigns
Working closely with your vendors can be leveraged to improve promotion performance. Think of a grocery store planning for a Christmas promotion. The campaign will include alcohol, chocolate, table decorations, meat, etc. Promotion dates will see an increase in demand for these products. Therefore, planners can share the demand-adjusted forecast with vendors, and vendors can plan their production and shipments accordingly. Businesses can expect the vendor to send their orders on time and in full.
Collaborative Demand Planning for Medium and Long-Term
When manufacturers and distributors work together to plan their demand, they can improve their workflows and reap the benefits of a more accurate forecast, reduced inventory, and improved communication. If businesses share demand forecasts with suppliers, the probability of stockouts will be greatly reduced since suppliers can plan accordingly. Also, if there are any binding constraints, collaborative demand planning enables the flexibility to have the right amount of orders. Businesses can split and manage purchase orders among suppliers and have the exact amount they need.
Challenges of Supplier Collaboration and How to Overcome Them
A unified effort offers valuable outcomes, but there might be some hurdles along the way. Collaboration requires similar mindsets. Both parties have to be innovative and should be willing to adopt new ways of working; they need to get out of their comfort zone. The remarkable change in working methods might be challenging at the employee level, and commitment to a paradigm-shifting project may require significant time and management effort.
Basically, what supplier collaboration entails is more than just implementing a process or framework. It has the right partners and platform to achieve the shared objectives. The key here is to choose the right provider with the right capabilities. It should be:
Easy to use by employees and have an intuitive UI to increase user acceptance with a great user experience;
Agile enough to connect with any other existing management tool without requiring a whole system change;
Automated with zero human error;
And reduce costs and improve the supply chain performance.
From Paperwork to Automation: Electronic Data Interchange
Let's say a supermarket needs to order some toothpaste from an FMCG vendor, then that supermarket should create a purchase order and send it to the vendor via email or fax. Although email is an electronic approach, the documents exchanged through email must still be managed by employees rather than computers.
People slow down the processing of documents and make them prone to error. If the planner was to make a mistake and failed to realize it instantly, then the supermarket might be out of stock for the toothpaste that week. Compared to other electronic approaches like email and fax, processes start immediately with no human touch when EDI documents flow directly to the receiver's computer.
EDI has been around for a long time and is widely used. It was introduced to supply chains in the 1960s, when the father of EDI, Ed Guilbert, developed a form of electronic communication across shipment supply chains in the US military which was later adopted by commercial companies. This approach enabled a company to deliver a full page of data in around two minutes.
Despite the fact that widespread supply chain integrations of EDI did not occur until the early 1990s, EDI made instantaneous long-distance communication possible in an era before the internet. With the arrival of the internet, similar text-based data exchange standards (e.g., XML, JSON over APIs) have quickly found acceptance in the supply chain world. Today, leading companies use standards-based data exchange technologies for:
Lower operational costs
More secure transactions
Quicker and more efficient communication
Elimination of manual procedures
Automated and smart processes
If such a system sounds tempting, but you do not have millions to invest, Vendor Collaboration is your answer.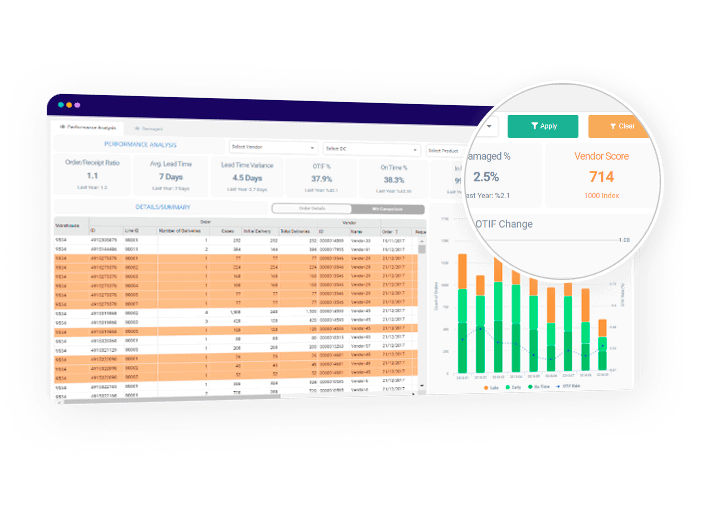 Thanks to Solvoyo Vendor Collaboration, you can collaborate on a cloud-based platform where you don't have to make any IT investment. Solvoyo Planning and Analytics Platform brings digital transformation and expands digital collaboration and diagnostic capabilities across the ecosystem of central warehouses, suppliers, and 3PL partners. It allows for real-time visibility of your supply chain and assessment of your vendor performance.
The best part is that you need a regular computer with an internet connection, not huge investments. Now, you can collaborate with your stakeholders on a cloud-native platform and focus on tactical and strategic decisions. Team up with your fellow musketeers, sharpen your sword, and conquer the competition!