Magdalena Yesil is a force to reckon with! She has done many firsts in her life, including at Salesforce, where she was the first investor and founding board member. A technology pioneer, she founded three of the first companies dedicated to commercializing Internet access, e-commerce infrastructure, and electronic payments. UUnet, CyberCash, and MarketPay earned her the Entrepreneur of the Year title by the Red Herring magazine. As a former general partner at U.S. Venture Partners, she oversaw investments in many start-ups. She is also an investor and advisor at Solvoyo. We sat down with her to talk about her new book PowerUp and how to win in the new economy.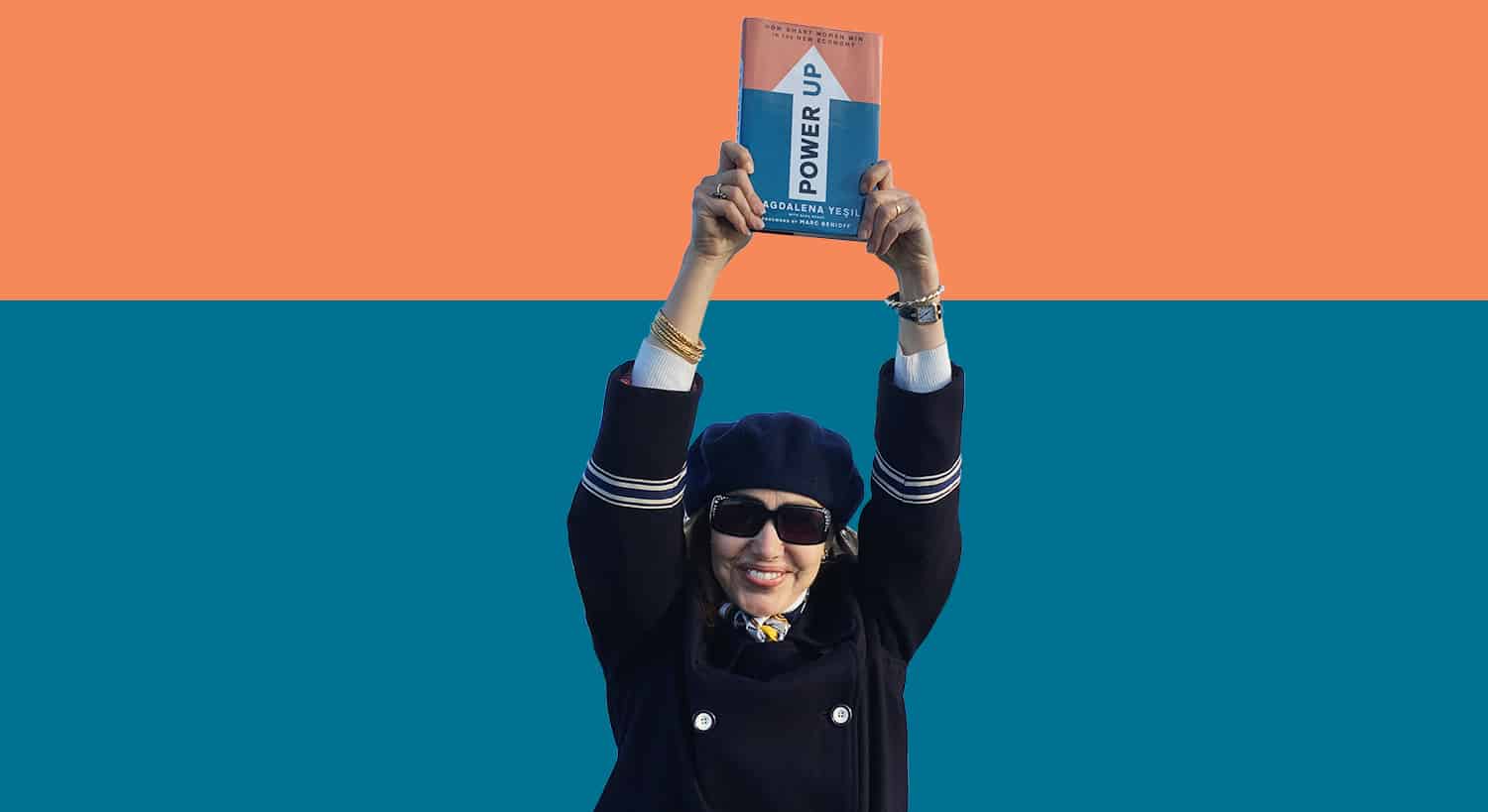 Tell us about a guiding principle in your life that you view as one of the keys to your success?
Where I am from, when you're leaving to embark on a big journey your family friends and the whole neighborhood actually show up with buckets of water. As you're either walking or driving away they throw those buckets of water after you.  That's exactly what they did to me when I was leaving Turkey for the United States to come to college many years ago. Water symbolizes the ability to flow finding ways to overcome obstacles. For instance, when the water hits a rock it finds a way to go around it when the water hits a wall it finds a crack to go through it and if there is no crack sometimes it might flow under it. Water always flows forward and many times in my career I have hit obstacles but I've realized they are not failures.  Certainly, they were not to stop me from where I was going. I felt like I was like water that my friends and family threw behind me and I would continue to flow. I urge everyone to use this simple image.
How did you end up in the entrepreneurial world? How did Salesforce enter your life?
I actually did not have an ambitious goal of becoming an entrepreneur. After I took a career break following a successful engineering career in the semiconductor industry, I realized I could not get a decent job.  Well, flowing like water I switched careers and ended up founding 3 companies in the boom years of the internet era. The first company UUnet went public, the second one CyberCash, which allowed internet merchants securely take cash from customers, is where I met Marc Benioff.  Marc Benioff called and invited me to lunch one day when Salesforce was just a crazy idea. As Peter Diamandisfamously said "The day before something is truly a breakthrough, it's a crazy idea". I went all in, put my own money and committed to make Salesforce a success as its first investor and founding board member.
Why did you invest in "unsexy" enterprise software industries as opposed to B2C businesses that everybody easily understands?
I was an engineer by training and understood the complexities of what one might call back-end technologies. I also believe that there is a tremendous opportunity to disrupt conventional or "unsexy' industries.  Salesforce did that in CRM, I believe Solvoyo will do that in supply chain decision-support and Zuora in subscription business.  All of these companies are led by founders who spent years solving complex customer problems in their respective fields. There's too much pivoting in the world today. When you recognize a good idea with a tangible market, you need to believe in it and you need to stick with it until you've absolutely decided that you're ready to walk away.
You talk about "selling the future" in your book as a winning formula.  Could you talk a bit about that?
Selling the future concept is all about envisioning your future and investing in your career in such a way everything you do i.e. your behavior, the steps you take reflect that future NOW. For instance, you may be dreaming about being director of engineering or VP of marketing. Start showing the world with the type of responsibilities you take on or the way you dress up that you are ready for that role. Believe and live that dream every day. You'll be amazed by how that feeling empowers you.
Tell us about a difficult situation you faced and a key lesson from that?
Back in late 2001, we were burning more than a half million dollars per month and as such had a serious cash flow problem at Salesforce. I was trying to figure out a way out especially after our investors refused to inject new cash. As I was playing with spreadsheets, I realized there was a solution but one which required the change in our business model. At that time, we had no long-term contracts with customers, no upfront payment, everything was paid on a monthly basis. I went to Marc, showed him all my calculations and told him our salvation resided in annual subscriptions and getting paid upfront in exchange for a discount. He initially rejected the suggestion fearing customer alienation as our motto was completely about no commitment. I had a feeling since we had a great relationship with our customers, we could ask them. Ask we did and the response was really amazing. In the first month, about 50% of our customers converted to annual contracts and paid us upfront. We turned from negative cash flow to positive all thanks to our customers. My biggest takeaway from this experience is that customers can save you!
So, what is cool in the world of technology these days from your perspective and why?
We have been in a growth cycle in high tech for a decade and as an entrepreneur, my attention often turns to how companies can use these new technologies to get smarter and become more agile while impacting business results in a meaningful way. The new technology should also have the capacity to change how we work and interact with each other. Otherwise, it is all hype. I believe new concepts such as machine learning, AI, predictive analytics will be game changers to the extent they can effectively be incorporated into daily decision-making. For instance, a platform like Solvoyo allows fully automated supply chain decisions such as how much to produce or what store to allocate or what to ship while learning from the external world and continuously updating predictive alerts and prescriptive actions. That kind of technology is truly exciting.