Solutions
Demand Driven Material Requirements Planning
Solvoyo's DDMRP solution is the integrated and automated way of coupling inventory optimization, production planning, and material planning in one shot
DDMRP is the use of automatically adjusted inventory buffers for both finished goods and materials strategically positioned throughout the enterprise for efficient and predictable production and material replenishment that responds to changing end-item (finished good) demand.
In particular, demand-driven means the ability to respond to both:
Predictable Changes
Seasonality
Promotional events
Opening/closing plants
Product portfolio changes
Unpredictable Changes
Sudden changes in demand
Breakdowns in production resources
Conventional Approach
The classical approach de-couples demand planning, inventory optimization, production planning, and MRP. Therefore, demand changes need to be reflected in a sequence of planning re-runs, ending with the ERP-enabled MRP run to check material availability. In cases where material falls short to execute a production plan, multiple planners make manual adjustments to the inventory plan, the production plan and/or the material replenishment plan in order to respond to the changes in demand.
In dynamic and competitive markets, the classical serial approach falls short of matching the speed of business. The consequences usually involve continuous fire-fighting, shifting of priorities and expediting, with Excel being the primary mechanism to get to an executable plan which ends up not being totally responsive to the demand changes.
Solvoyo's DDMRP solution is the integrated and automated way of coupling inventory optimization, production planning, and material planning in one shot. Thus, changes in demand can be reflected in material requirements at the speed of business and create production/replenishment plans that are always feasible (i.e., immediately implementable). Besides, MRP becomes an integral part of the production plan that takes into account capacity constraints and material availability simultaneously.
Why DDMRP with a digital platform?
In order to implement DDMRP, you need to have immediate access to demand/orders, inventory optimization parameters for both FG and materials, production capacity, bill-of-material (BOM), bill-of-process (BOP or recipes) and material availability data. This is usually possible with a digital platform that enables access to all required data as well as a concurrent optimization capability across the classical planning functions.
DDMRP still uses forecasts and orders but the lack of highly accurate short-term forecasts is covered by automated adjustments in inventory buffers across the supply chain. Over time, if the automated adjustments to the right buffers are efficient and effective, then the system responds to changes in demand with less nervousness (i.e., fewer peaks and valleys in inventory) in production and material replenishment. Of course, you can achieve the same "responsiveness" to changing demand by keeping much larger production capacity than you may need and/or much higher investment in FG and material inventory. However, this approach is expensive and not sustainable in many competitive markets.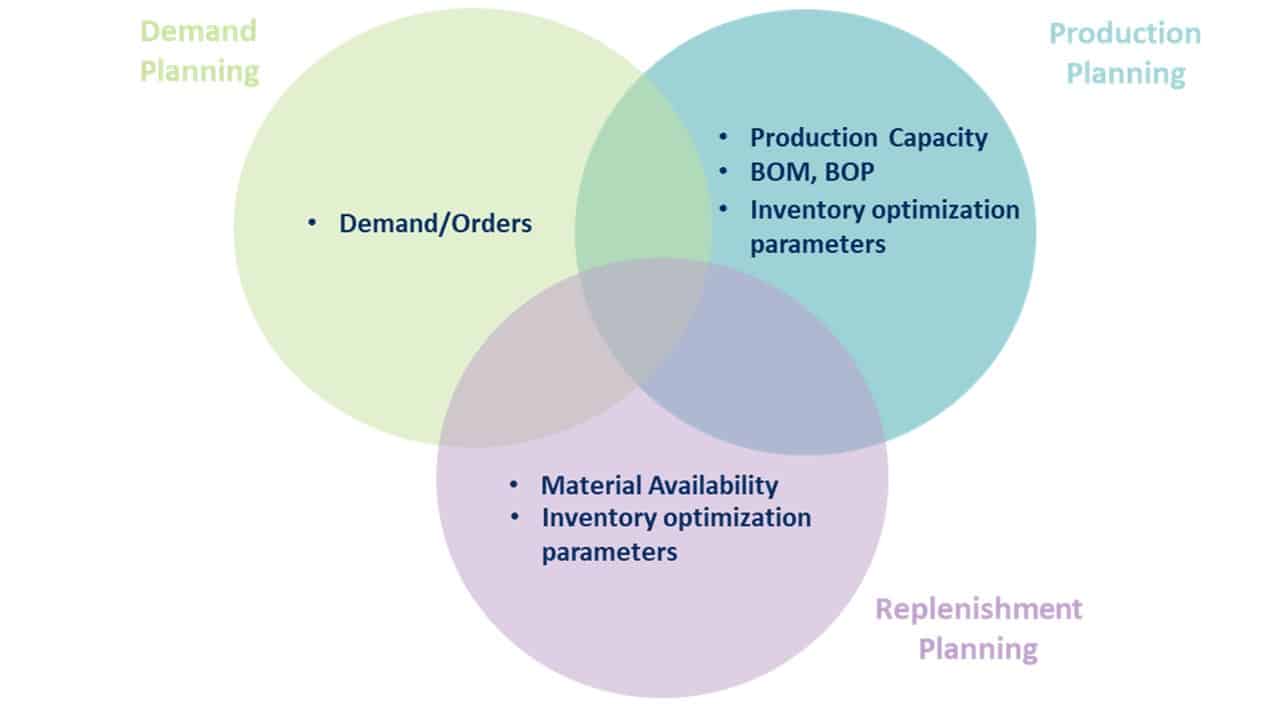 Companies' Role in DDMRP
DDMRP is a software-enabled solution for those companies which place value in quick and automated decision making. DDMRP cuts across multiple functions: demand planning, prioritized order fulfillment, inventory planning, production planning, and material planning. In order to implement DDMRP successfully, software is necessary but not sufficient.
Companies also need to:
Make an internal transition
Change their processes across these traditional silos
Focus on cross-functional trust and
Adopt common KPIs
About Solvoyo
Solvoyo is the next generation planning and optimization platform built for the digital revolution in supply chain. Solvoyo helps companies close the gap between planning and execution. Our all-in-one platform forecasts demand, optimizes inventory, plans production, replenishes networks and concurrently optimizes transportation plans. Solvoyo is the only planning platform that allows companies to plan strategic, tactical and operational supply chain actions in one tool. The scalability, analytical capabilities and short implementation cycles of our true cloud platform help our clients achieve dramatic improvements in performance. We are headquartered in Boston, MA with our R&D center in Istanbul, Turkey. For more information, please visit www.solvoyo.com.