Services
Customer Success
Customer success is driving our purpose as a Software as a Service company. We view ourselves as technology partners to our customers in digital transformation of their organizations. In that transformation journey, we pride ourselves in helping our customers make smarter and faster decisions across different operational functions. To do that, we offer a single platform with multiple capabilities that incorporate descriptive, diagnostic, predictive and prescriptive analytics, enhanced by machine learning.
At Solvoyo, we not only want to ensure customers reach their expected goals, be it cash, cost, or service improvements or workforce productivity, but also we aim for our customers to have the right experience interacting with our platform and our teams.
Our vision of Customer Success is to help you achieve your expected results by enhancing your experience and providing you with optimum service and fast delivery.
There are two parts to achieving your expected results. The first one is achieving your stated goals and the second one is your Solvoyo experience. In order for you to have the right experience with us, our Customer Success team accompanies you across your entire journey, from the moment you land on our website all the way to onboarding and after go-live support. Our job does not end when you go live, in fact, that is when it truly begins. Our governance structure ensures that there is continuous monitoring of mutually selected business metrics so that we can drive continuous learning and improvement in both of our organizations. Beyond monitoring KPIs, we learn how your users interact with our platform. In fact, our adaptive learning algorithms feed us new information on not just how the demand for your new products would look like but also tell us why users of our platform behave the way they do.
We proactively orchestrate every step of your path toward success based on three elements:
Properly managing your expectations
Laying out joint accountabilities
Teeing-up future expansion and advocacy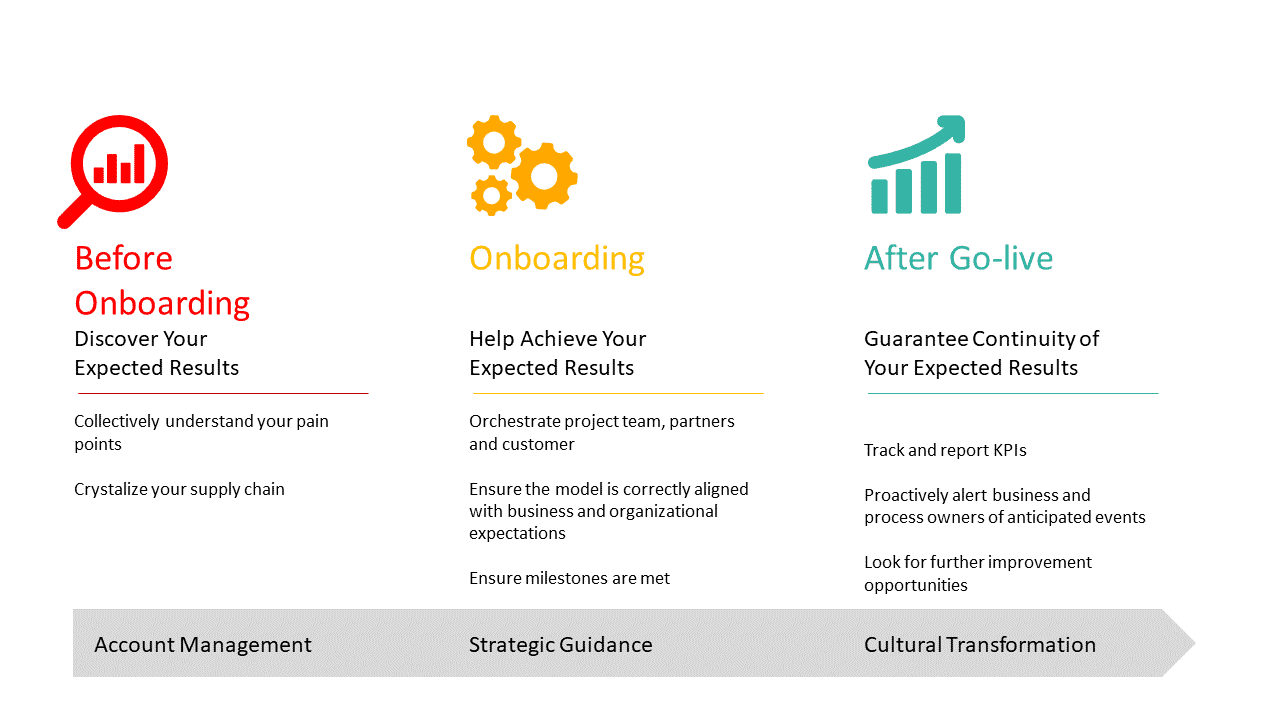 Account Management
Customer success is not just another name for account management. Your Customer Success Manager (CSM) helps you set milestones on your path towards achieving your specific goals. A time-based plan before and after onboarding keeps you on track. When focusing on KPIs, we take your company's goals and help you operationalize them. We monitor these metrics both during hypercare and regular support.
Operational and Strategic Guidance
Ongoing success is only possible with ongoing support and strategic guidance. Solvoyo platform not only accelerates operational performance through automated decision-making but it also helps you get granular insights from your data. With (a dedicated) Customer Success (Manager) support you will be able to evaluate future growth and further improvement opportunities in your value chain enhancing your organizational agility.
Sales & marketing, operations, distribution, and finance can work on possible mid-term and long-term scenarios by comparing trade-offs, cost, revenue, and margin to drive growth factors and to eliminate inefficiencies in your as-is business. Challenging the status-quo strategically or operationally requires courageous leaders who are supported by data-driven algorithms, automated decision processes and the visibility of KPIs that matter.
Cultural Transformation
Solvoyo was set up as a rebellion against traditional planning solutions. Our rebellious streak extends to the way we approach Customer Success in that we question the very processes we are asked to automate. By bringing our and our partners' operational experience into every onboarding work, we challenge existing processes and see how automation and optimization drive change.