Case Study
Profitably-Managing Explosive Growth
Automated replenishment and procurement planning
Industry:
Discount Retail
**Case study numbers were updated on November 2018.
Solvoyo gives A101 the ability to perform all of our planning needs on the same platform - strategic, tactical, and operational planning. Further, we can seamlessly integrate their recommendations with our operational systems, minimizing costs and maximizing productivity.
Growth is a double-edged sword - when a business grows exponentially, inventory costs may explode, if not managed closely. One of Europe's fastest growing hard-discount retailers, A101, selling high-quality, cost-effective food, beverages, and household goods at affordable prices, lived this paradigm as it rapidly expanded from a one-store start in 2008 to the biggest market presence in Turkey with a 2018 revenue of $4B from 8,000 stores fed by 42 distribution centers across the country.
In Boston Consulting Group's recent study on how discounters are disrupting the grocery market, discount retailers grew significantly in Western Europe with Turkey having the highest market share as of 2017.
The Issue
As A101 hit around 1,400 stores in 2011, it was hit by a triple whammy: stock-outs, excessive obsolete inventory, and waste in limited shelf-life products at the same time. A101 had a manual replenishment process responding to store orders and a purchasing process dominated by a different Excel at each of its DCs. Transportation to stores were planned by tribal knowledge.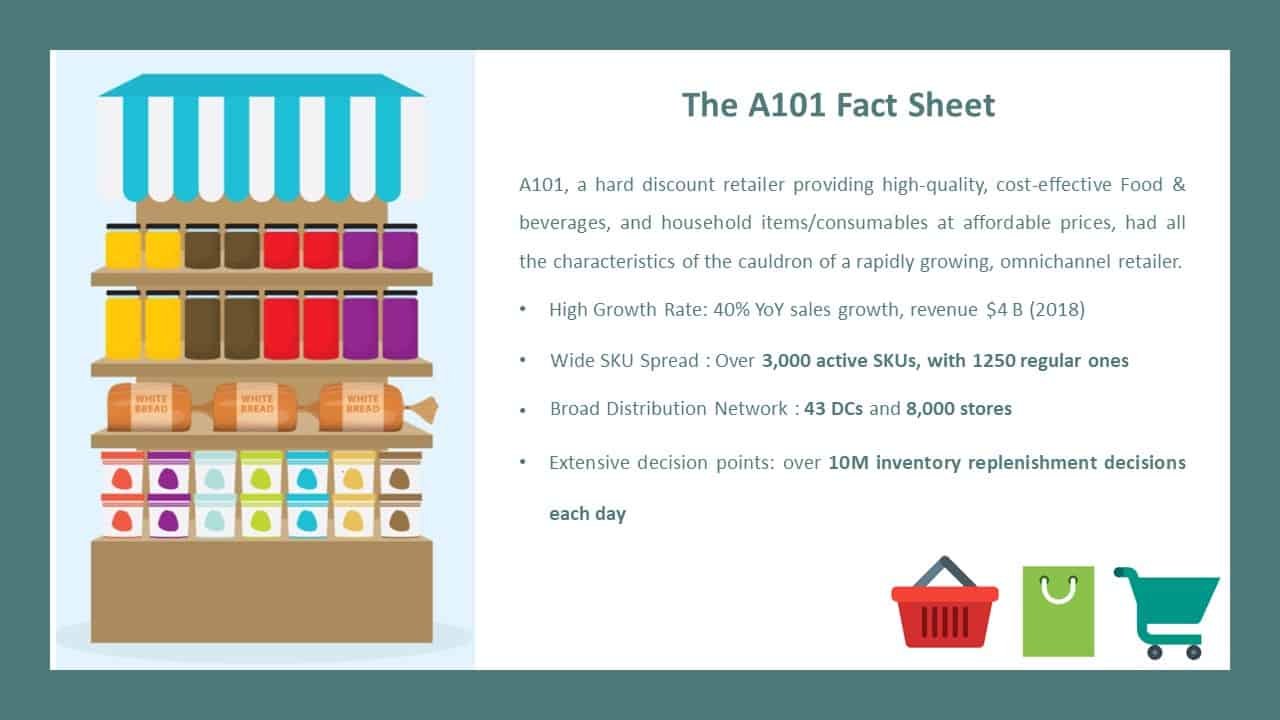 The Approach
A101 believes in automated decision making. The above diagram shows the closed-loop automated process that forecasts daily demand for each SKU at each store, refreshes inventory targets for each SKU x store combination – each week. The platform produces over 10M store replenishment recommendations, several thousand purchase recommendations and the transportation plan for the entire network – each day! The recommendations are uploaded to the SAP ERP system (in dark blue) for execution.
The platform reports on the key performance metrics that matter – stock-outs at the stores, inventory turns in the network, outbound transportation costs and supplier performance – each day!
Demand planning:
Solvoyo generates measurably reliable forecasts based on point-of-sale data, inventory positions, seasonality, special events and planned promotions.
Inventory Optimization:
Solvoyo calculates both cycle stock based on display stock and store replenishment frequency as well as safety stock based on forecast error and lead-time variability, supported by machine learning to adjust planning parameters continuously.
Replenishment Optimization:
Solvoyo calculates net replenishment quantities based on inventory targets, open/in-transit orders and adjusts them for transportation efficiencies. Each store manager reviews the replenishment recommendations for his/her store through a hand-held device, and manages only the exceptions – currently 1 out of every 100 recommendations!
Visualization:
Solvoyo provides a comprehensive dashboard to monitor the KPIs that matter: stock outs at the stores, inventory turns in the network, outbound transportation costs, and supplier performance.
Results
A101 achieved world-class metrics in hard-discount retailing :
achieved over 40% year-over-year growth
increased inventory turns by 18%
decreased store stock-outs by 50%
reduced transportation costs per unit by 5%
reached a plan exception level of 1% in store replenishment, i.e., 99% of the suggested replenishment plans get executed automatically – every day – all supported by one (1) central planner!
About Solvoyo
Solvoyo is the next generation planning and optimization platform built for the digital revolution in supply chain. Solvoyo helps companies close the gap between planning and execution. Our all-in-one platform forecasts demand, optimizes inventory, plans production, replenishes networks and concurrently optimizes transportation plans. Solvoyo is the only planning platform that allows companies to plan strategic, tactical and operational supply chain actions in one tool. The scalability, analytical capabilities and short implementation cycles of our true cloud platform help our clients achieve dramatic improvements in performance. We are headquartered in Boston, MA with our R&D center in Istanbul, Turkey. For more information, please visit www.solvoyo.com.