Case Study
Concurrent Optimization of Fulfillment and Transportation: Strategic Increments that Maximize Margins
Industry:
Consumer Electronics Manufacturer & Retailer
Strategic Increments that Maximize Margins
When managers think holistically and optimize their company's operations to maximize revenue, margins, and service, the results can be spectacular! Most corporate managers operate in silos and optimize the department they are responsible for. The rare manager looks at the entire order-to-cash process and asks, "What can I do to improve the company as a whole?"
Since its founding in 1984, the Vestel Group has grown to over €5B in sales and has become one of the world's largest original equipment manufacturers. It boasts the majority share of the European TV market and also operates retail appliance stores in Turkey.
Rapid growth put significant pressure on Vestel's domestic business, exposing weaknesses in the order-to-cash cycle. Many operations were performed manually and sequentially. Reactionary processes that evolved over time contributed to stock-outs, customer complaints, lost sales, and escalating fulfillment and transportation costs.
Vestel's management formed a strategic vision of the business process improvements it wished to make, then employed Solvoyo's Elevation Platform to implement this vision progressively in increments. Each increment significantly improved operational process flow, provided automated decision support, and delivered significant value. Each solution's value cost-justified Vestel's continuing to the next incremental improvement.
The Solution
Vestel's business objective was to consider daily inventory availability and transportation cost together in the order fulfillment process. Further, they wanted operational managers to be able to decide to maximize either revenue or profit while meeting the desired customer service level targets. They embarked on an incremental strategy to minimize costs first, then to build decision flexibility into their planning process.
Their first solution was to minimize delivery cost within their network of 6 plants, 4 central depots, 29 cross-dock centers and 1,300 stores. They employed Solvoyo's Elevation Platform to optimize daily transportation for their 700,000 annual shipments -- first from the central depots nearby manufacturing plants to cross-docks, then to their stores. Solvoyo's transportation optimization determined which products went on which transportation mode, vehicle, and route and also constructed a holistic plan to minimize transport costs. The significant economic benefits this project delivered motivated Vestel to employ the same Solvoyo economic model to optimize their fulfillment allocation.
Because of constrained capacity, not every dealer gets everything they order. The second solution implemented was Solvoyo's Closed-Loop Operational Management that Vestel now employs to automatically produce replenishment recommendations for each store on a daily basis. Three separate plans are produced each day with different criteria for allocating on-hand and in-transit inventory to current orders:
maximizing sales (maximum revenue and service levels),
maximizing margins (allocating to dealers based on greatest profitability),
or minimizing total transportation costs.
This provides Vestel's operations managers with alternatives and the greatest flexibility in selecting the most effective way to fulfill orders.
All three plans are run every day by 7:00 AM.
Operations reviews and picks a plan, which triggers their ERP to initiate plan execution by 7:30 AM.
The ERP then sends a pick list to the DCs with the schedule and loading sequence and employs the Solvoyo optimized transportation plan to tender loads to Vestel's carriers.
When the outbound shipment is scanned into its conveyance, an automatic message is sent to invoicing.
Closed-Loop Operational Management streamlined previously separate and manual processes. Vestel eliminated pre-shipment credit approval, manual allocation of inventory, and inaccurate invoices. This increased fulfillment efficiency and substantially reduced the order-to-cash cycle time.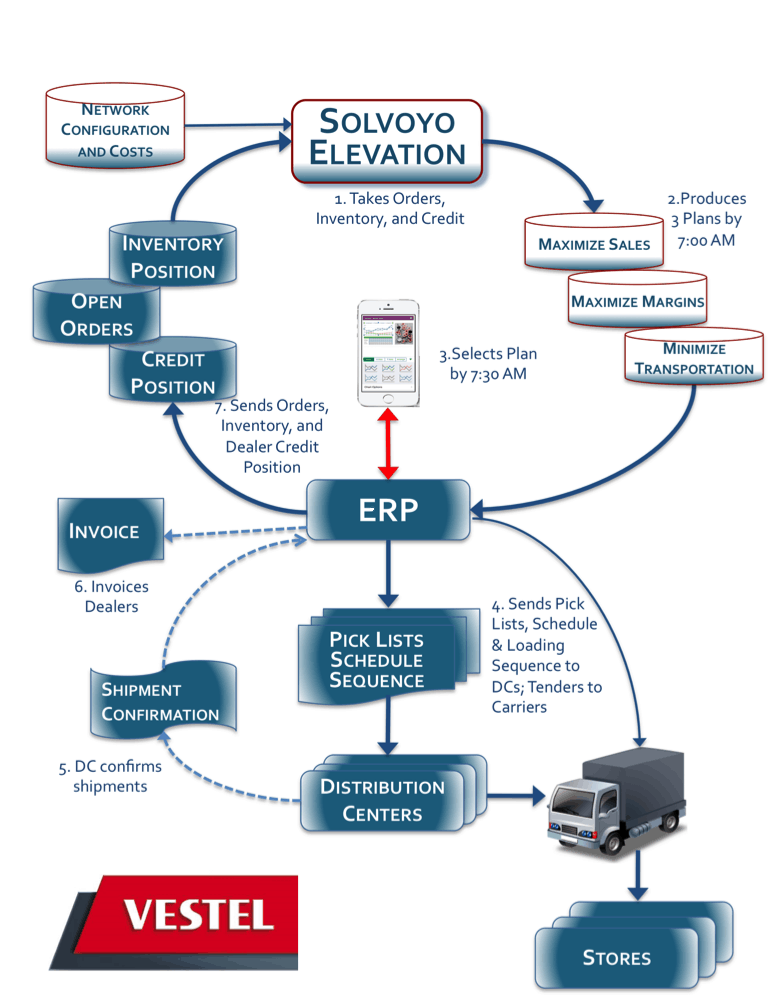 The monumental operational and financial benefits of the Closed-Loop Operational Management solution motivated Vestel to embark on the third solution -- Network Rationalization. Solvoyo built a detailed model of Vestel's distribution infrastructure that Vestel employs to determine the proper size and location of their cross-dock locations and their carrier service areas. Now Vestel selects the right cross-dock locations, negotiates the most efficient transportation discounts, and maintains an optimum distribution network quarter-on-quarter.
Currently, the fourth solution is being prepared -- setting optimal inventory targets for finished goods at DCs, and creating net manufacturing requirements for a demand-driven planning process.
---
Solvoyo has provided Vestel with both the tools and the guidance to realize our ambitious process improvement goals. Solvoyo has been an ideal partner, worked with us hand-in-hand though each of the increments, and helped us maximize our return-oninvestment.
Benefits
Vestel has realized an 18% reduction in total domestic transportation cost -- in excess of $10 million of savings to date -- and sustained this savings over time. In addition, Vestel was able to eliminate two in-network warehouses, saving facility and personnel costs, and eliminating $30M in standing inventory. Simultaneously, Vestel has:
Increased on-time fulfillment to dealers
Lower inventory held at dealers
Increased consumer satisfaction significantly
Reduced process complexity and human-power
About Solvoyo
Solvoyo is the next generation planning and optimization platform built for the digital revolution in supply chain. Solvoyo helps companies close the gap between planning and execution. Our all-in-one platform forecasts demand, optimizes inventory, plans production, replenishes networks and concurrently optimizes transportation plans. Solvoyo is the only planning platform that allows companies to plan strategic, tactical and operational supply chain actions in one tool. The scalability, analytical capabilities and short implementation cycles of our true cloud platform help our clients achieve dramatic improvements in performance. We are headquartered in Boston, MA with our R&D center in Istanbul, Turkey. For more information, please visit www.solvoyo.com.